You probably can't resist yourself to discuss a matter , when former American president George Bush come into the picture. During his service days , a huge media coverage was there on this man and almost every world got his name in their mind. But here's the end !
Social media users are sharing a touching handwritten note former US president George H.W. Bush penned to Bill Clinton, who defeated him after one term in 1992.
In the gracious message, dated Jan 20, 1993, Mr Bush wrote: "When I walked into this office just now I felt the same sense of wonder and respect that I felt four years ago. I know you will feel that, too.
George Herbert Walker Bush, the 41st president of the United States and a member of a central American political dynasty that also sent his eldest son to the Oval Office, died on Friday, Nov. 30. He was 94.
A Bush spokesperson announced that Bush passed away at 10:10 pm, and he is survived by five children and their spouses as well as 17 grandchildren, eight great-grandchildren, and two siblings. His wife of 73 years, Barbara, died April 17 of this year with him by her side.
George W. Bush, the 43rd president and son of the elder Bush, said in a statement that his father was "a man of the highest character and the best dad a son or daughter could ask for."
President Donald Trump and first lady Melania Trump said they "join with a grieving Nation to mourn the loss of former President George H.W. Bush."
"Through his essential authenticity, disarming wit, and unwavering commitment to faith, family, and country, President Bush inspired generations of his fellow Americans to public service — to be, in his words, 'a thousand points of light' illuminating the greatness, hope, and opportunity of America to the world," the Trumps said.
President Trump ordered flags to fly at half-staff over federal buildings. He also declared that Wednesday, Dec. 5, will be a National Day of Mourning.
Former president Bill Clinton and former secretary of state Hillary Clinton said in a statement early Saturday morning: "Few Americans have been — or will ever be — able to match President Bush's record of service to the United States and the joy he took every day from it."
Bill Clinton said: "I am profoundly grateful for every minute I spent with President Bush and will always hold our friendship as one of my life's greatest gifts."
Former president Barack Obama and former first lady Michelle Obama said, "America has lost a patriot and humble servant."
"George H.W. Bush's life is a testament to the notion that public service is a noble, joyous calling," they said, citing his domestic and international achievements.
"It's a legacy of service that may never be matched, even though he'd want all of us to try," the Obamas added.
The son of a Connecticut senator, Bush forged his own distinguished career in public service before he even entered the White House, first as the 43rd vice president and later as president himself. He served as a Navy pilot during World War II, was a two-term congressman, an ambassador to the United Nations, chair of the Republican National Committee, senior US envoy in China, and the director of the Central Intelligence Agency.
Bush was the more moderate running mate to conservative icon Ronald Reagan, and the pair entered the White House in 1980 by defeating President Jimmy Carter. After Reagan's two terms, Bush became the first vice president to assume the presidency through his own election since Martin Van Buren in 1837.
Bush famously promised a "kinder and gentler nation" as the US emerged from the Cold War, and his time in the Oval Office was marked by foreign interventions in the Persian Gulf, Panama, and Somalia. On the home front, despite his passing of such landmark legislation as the Americans with Disabilities Act and the Clean Air Act amendments, a moribund economy and a broken promise not to raise taxes proved politically fatal, and Bush lost his reelection bid to Bill Clinton in 1992.
His eldest son, George W. Bush, was elected president in 2000 after serving as the governor of Texas, making Bush Sr. and John Adams the only two men in US history to be followed in the White House by their own children. Another son, Jeb Bush, served as Florida governor and made an unsuccessful campaign for president in 2016.
For much of the past two decades, Bush worked alongside other living former presidents on humanitarian projects, including disaster assistance efforts in southeast Asia after the 2004 tsunami and in New Orleans following Hurricane Katrina in 2005. Bush also made headlines in 2017 when he was among a litany of powerful men being accused of past sexual harassment. The former president was forced to apologize for patting "women's rears" during photographs.
In recent years, the longest-living president in US history had grown increasingly frail. He had been suffering from vascular Parkinsonism, a stroke-related illness that mirrors the symptoms of Parkinson's disease, and he was mostly seen using a wheelchair or motorized scooter. Yet he still made appearances at major public events, including a fundraising concert in the aftermath of the 2017 Puerto Rican hurricane, and he famously went skydiving at major birthdays.
In January 2017, Bush and his wife were hospitalized for several days after suffering from pneumonia and bronchitis, respectively. Upon their release from hospital, the pair tossed the coin at the 2017 Super Bowl, where they received a standing ovation. He was by his wife's side when she died, having held her hand all day.
PAST LIFE
Born June 12, 1924, to a wealthy family in Milton, Massachusetts, Bush was the son of Dorothy Walker Bush and Prescott Bush, an investment banker who later served as a Republican senator from Connecticut.
While attending the elite Phillips Academy in Andover, Massachusetts, he met Barbara Pierce at a 1941 Christmas dance. "I'm really all excited, but scared to death too," Pierce wrote him after he invited her to a senior prom. "If you hear a big noise up there, don't worry, it's just my knees knocking."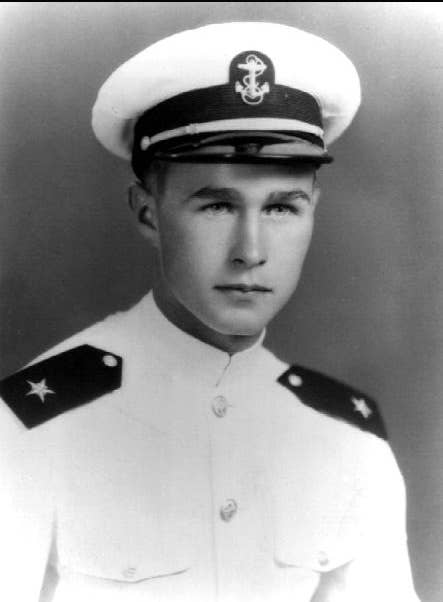 With the US at war, Bush enlisted in the Navy on his 18th birthday on June 12, 1942, the same day he graduated from Andover.
While serving in the Pacific as the Navy's youngest pilot — flying an Avenger bomber on which he had inscribed the name "Barbara" — Bush's plane was shot down by the Japanese on Sept. 2, 1944, and he was rescued from the sea by a submarine.
On Jan. 6, 1945, he married Pierce while on leave from the Navy. The pair had six children: George Walker; Pauline Robinson "Robin", who died of leukemia in 1953; John Ellis "Jeb"; Neil; Marvin; and Dorothy "Doro."
The war ended before Bush returned to duty, but he was honorably discharged from service, having flown 58 combat missions and been awarded the Distinguished Flying Cross medal.
After graduating with an economics degree from Yale, where he was a member of the secretive Skull and Bones society, he began working in the oil industry and moved his family to Texas, where he cofounded Zapata Petroleum in 1952.
In 1962, he became chair of the Harris County Republican Committee and mounted an unsuccessful campaign for the US Senate in 1964. Just two years later, he won a seat in the US House of Representatives, where he served on the influential Ways and Means Committee.
He gave up his congressional seat to run for Senate again in 1970, but lost out once more to a conservative Democrat. His consolation prize was being named UN ambassador by President Richard Nixon.
Confirmed by the Senate despite a lack of foreign policy experience, Bush spent his time at the UN developing close ties with global diplomats, before leaving in 1973 to become chair of the Republican National Committee.
SOURCE – BUZZFEED